Miners putting more cash into investors' pockets than expected has forced a big upgrade for 2021, finds Andrew Holt.
In what is a welcome return to normality, UK dividends soared to £34.9bn in the third quarter – a whopping 89.2% leap on the same period a year earlier on a headline basis.
Large one-off special payments were partly responsible for the unexpectedly large increase, but even the underlying total – which excludes specials – shot 52.6% higher to £27.7bn, according to Link.
The third quarter performance has encouraged Link to revise its expectations for the year. It now believes that companies will return £93.2bn of cash to shareholders during 2021 – 44.8% more than they did in 2020.
Underlying dividends are predicted to jump 22.4% to £77.4bn, but this is around a quarter lower than 2019's high-water mark.
The strong third quarter comes from a low base as payouts were halved during the same quarter a year ago as the pandemic forced companies to preserve their cash.
Looking at the latest numbers in more detail, the large rebound is still not enough to restore dividends to their pre-pandemic high. Indeed, the headline total is only a touch higher than the dividends paid in 2018.
In the latest quarter, miners were responsible for three quarters of the outperformance. Significantly higher commodity prices earlier in the year saw the big groups report record profits.
A rise in dividends from these companies was expected, but the magnitude of the increases, in a somewhat arbitrary mix of special and regular payments, surprised the wider market.
Putting the mining fillip into perspective: the £12.8bn Q3 mining total was more than the next five largest sectors combined. For the full year, miners will be responsible for nearly £1 in every £4 distributed by UK-listed companies.
A sharp rebound in prices is also enabling oil payouts to recover faster than expected. Altogether, the extractive industries will make up almost a third of 2021's UK dividends, leaving investors uncomfortably reliant on two volatile and highly cyclical sectors for income.
The improving picture suggests underlying dividends may regain their previous high by the end of 2024 – a year sooner than was penciled in at the beginning of this year.
One issue that could hit expectations in the coming years is the de-listing of BHP and supermarket chain Morrisons. This will leave a £4.9bn hole in the dividends UK-listed companies pay in 2022.
Nevertheless, after adjusting for this impact, Link expects the underlying total to grow next year, not least as banking dividends return to full strength – though at a slower rate than in 2021.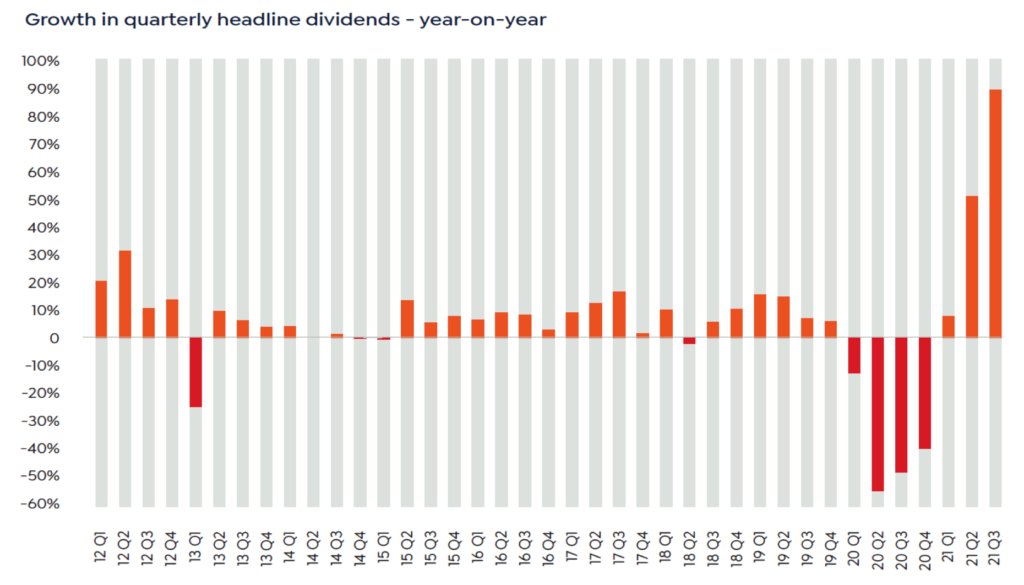 Mining, oil and banking dividends made the biggest contribution to growth
Source: Link