Emerging market stocks have reported record levels of inflows towards the end of 2020, driven by the news of progress on vaccine development. 
Investors are fickle creatures. Following record outflows from emerging markets in the Spring, their fortunes turned when news broke of the first rollout of a Covid vaccine. Emerging market equities were the key beneficiaries, reporting record level inflows.
By the end of November, portfolio inflows into emerging markets stood at $76.5bn (£56.6bn), with equity markets accounting for more than half at $39.8bn (£29.4bn), according to the Institute of International Finance. The MSCI Emerging Market index surged to 581.39 basis points by the end of November, its highest level in 20 years.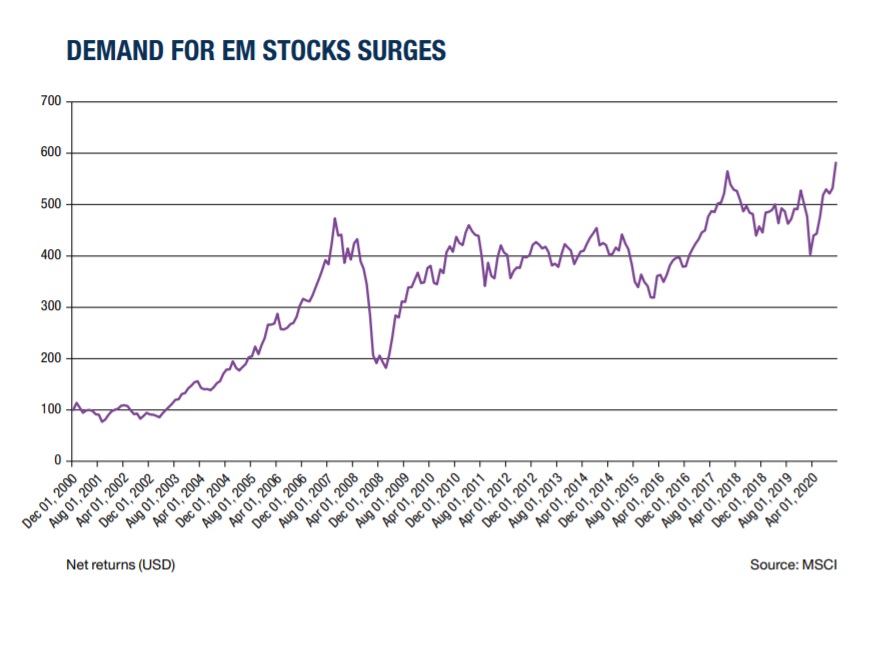 Investors are particularly bullish on the recovery of the Asian and Latin American markets, while the outlook for Europe, the Middle East and Africa (EMEA) remains more cautious, according to a Bloomberg survey.
But there is a catch to the sudden risk-on mood. The efficient rollout of a Covid vaccine is seen as a key driver of investor optimism, according to Bloomberg. But vaccine producers have reported that Western governments have already pre-ordered most of the available supply for the next few years, according to market analytics firm Airfinity.
Canada leads the race by secured enough vaccines to inoculate its entire population four times over, followed by the US, UK and EU, who have snatched up the bulk of the world's vaccine supply.
Meanwhile, major emerging markets, including Brazil, Indonesia, Mexico, Thailand and Turkey, have only been able to reserve enough to vaccinate about half of their population, while the remainder of Latin America has vaccine reservations for a third of its citizens throughout the next year, according to Airfinity, a potential stumbling block for emerging market recovery.