By Joana Rocha Scaff
In recent years, the amount of private equity capital being invested via customised separate accounts has risen significantly, signalling investors' desire to invest in the asset class in a more customised, efficient, and dynamic manner.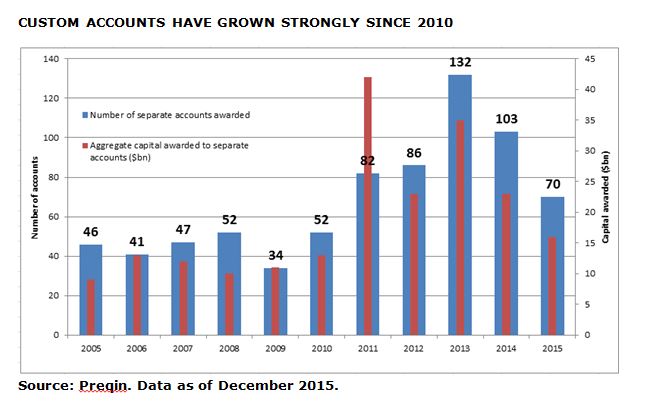 In response, managers have had to adapt and do "much more for much less", stepping up their operational capabilities and the services they provide, while also offering more favourable economic terms to clients. Achieving this while also managing the potential conflicts of interest that arise with customisation is far from simple. As much a challenge as an opportunity, custom accounts are changing the face of private equity investing. Since 2009, data provider Preqin has tracked more than 450 private equity custom accounts worth $140bn. It has found that almost 80% of investors will make them "a permanent feature" of their portfolios, or at least "consider" them
(see chart, inset – click to enlarge)
. More than half of fund-of-funds managers now offer custom accounts, albeit the capabilities, resources and level of expertise among them vary significantly. Custom account investors seek greater control over their private equity programmes by forging closer relationships with fewer managers, while also trying to reduce costs. Greater control can allow investors to build programmes that more closely reflect their views and preferences, tilting exposures towards certain asset classes, geographies, sectors, strategies or managers; pacing the deployment of capital; and complying with constraints such as socially-responsible, regulatory or firm-imposed requirements. Customisation can be the way to build an "ideal portfolio" from day one; or a "completion" portfolio to complement existing exposures and possibly fix existing disjointed, over- or under-diversified programmes. Closer relationships can allow clients to draw on their managers' expertise and resources to increase knowledge of the market, develop in-house investment processes, and improve monitoring and risk management capabilities. The resulting knowledge transfer may allow the investor to bring more portions of the programme in-house in the future. Managers face the challenge of effectively becoming an extension of their clients' investment teams, with all the increased demands that entails. Another key complexity is the management of potential conflicts of interest among clients that naturally arise as funds and custom accounts proliferate.  Managers must have adequate and clear policies in place to ensure that investment opportunities, as well as associated costs, are allocated fairly among clients. Custom accounts also introduce unique legal, accounting, tax, administrative, reporting and risk management requirements, and investors should choose providers with suitable capabilities. Despite all the hurdles, custom accounts can be very cost-effective for investors, due to the scale of such mandates. Overall, our industry will have to do more for less to offer investors programmes tailored to their objectives. For managers, the necessary-but-scalable investments in people and infrastructure will enable them to keep up with a secular trend.
Joana Rocha Scaff is managing director, head of Europe private equity at Neuberger Berman