INTRO: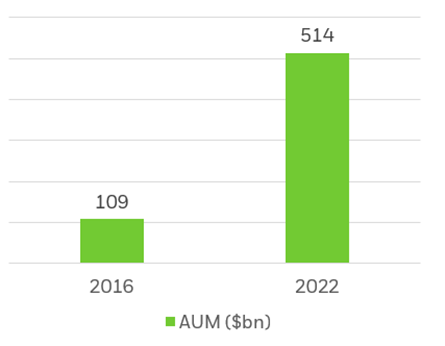 1Source: BlackRock, GBI, as of 31 January 2023. For illustrative purposes only.
Despite this strong growth, sustainable indexing remains an evolving category raising questions for investors. At iShares, we believe in debunking the common myths associated with this investment approach and providing investors with the facts to understand how to align their portfolio to their sustainable investing goals.
MYTH:
Sustainable investing lacks a standard methodology; there are no clear standards for building a sustainable portfolio.
FACT:
There are several common approaches to sustainable investing. Indexing is one method that can help align an investment approach with sustainability goals. This requires identifying an index that reflects an investor's objectives. For example, some indices may focus on excluding issuers or business activities with specified characteristics, while other indices may focus on including companies with best-in-class or improved sustainability characteristics.
Tracking an appropriate rules-based index is a clear approach to building a sustainable portfolio. In order to incorporate sustainable considerations, indices aim to utilise rules-based, consistent, and transparent methodologies to benchmark, measure, and manage exposure to environmental, social and governance risk, while also identifying sustainable investment opportunities.
PROVIDING CHOICE:
iShares seeks to provide investors with choice in line with their specific investment goals. Across the sustainable investing spectrum, investors can use environmental, social and / or governance data to inform their portfolio allocations and, through certain types of sustainability indices, also seek to achieve long-term sustainability outcomes, in line with each product's specific investment objective.
To find out how iShares can help you with your sustainable index investing journey through access, choice and clarity, search 'iShares sustainable'
DISCLAIMERS:
This document is marketing material: Before investing please read the Prospectus and the PRIIPs KID available on www.blackrock.com/it, which contain a summary of investors' rights.
Capital at risk. The value of investments and the income from them can fall as well as rise and are not guaranteed. Investors may not get back the amount originally invested. Current or future results and should not be the sole factor of consideration when selecting a product or strategy. Changes in the rates of exchange between currencies may cause the value of investments to diminish or increase. Fluctuation may be particularly marked in the case of a higher volatility fund and the value of an investment may fall suddenly and substantially. Levels and basis of taxation may change from time to time.
In the UK and Non-European Economic Area (EEA) countries: this is issued by BlackRock Advisors (UK) Limited, which is authorised and regulated by the Financial Conduct Authority. Registered office: 12 Throgmorton Avenue, London, EC2N 2DL, Tel: +44 (0)20 7743 3000. Registered in England and Wales No. 00796793. For your protection, calls are usually recorded. Please refer to the Financial Conduct Authority website for a list of authorised activities conducted by BlackRock.
MSCI is a service provider to financial institutions such as BlackRock and is not affiliated with BlackRock. Although BlackRock may utilize MSCI indexes in its iShares investment products or other products or services, MSCI does not sponsor, endorse, market, promote or otherwise recommend or express any view regarding BlackRock, iShares or any financial product or service of BlackRock or its affiliates, including any iShares ETFs or other funds tracking any MSCI index. Further, MSCI bears no liability with respect to any such products or services or any index on which they are based. The applicable prospectus of any such product contains a more detailed description of MSCI's limited commercial relationship with BlackRock or its affiliates and any related products or services. MSCI Inc. is not an investment adviser or fiduciary and MSCI makes no representation regarding the advisability of investing in any financial products.
Any research in this document has been procured and may have been acted on by BlackRock for its own purpose. The results of such research are being made available only incidentally. The views expressed do not constitute investment or any other advice and are subject to change. They do not necessarily reflect the views of any company in the BlackRock Group or any part thereof and no assurances are made as to their accuracy.
This document is for information purposes only and does not constitute an offer or invitation to anyone to invest in any BlackRock funds and has not been prepared in connection with any such offer.
© 2023 BlackRock, Inc. All Rights reserved. BLACKROCK, BLACKROCK SOLUTIONS and iSHARES are trademarks of BlackRock, Inc. or its subsidiaries in the United States and elsewhere. All other trademarks are those of their respective owners. MKTGH0823E/S-3055805
THIS DOCUMENT IS MARKETING MATERIAL
Capital at risk. The value of investments and the income from them can fall as well as rise and are not guaranteed. Investors may not get back the amount originally invested.