Andrew Wauchope talks to Mark Dunne about charities and their pension schemes, the secret of being a good trustee and what to expect from the markets in 2018.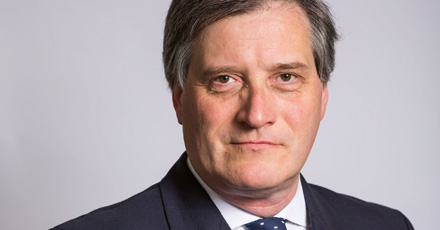 You are a trustee of the Masonic Charitable Foundation, the Sir Halley Stewart Trust and Harrow Mission Trust. How long have you been a charity trustee?
I have been part of various charities for more than 30 years. I started out working as a private client discretionary fund manager, then I got involved in looking after various charities and over the years I have specialised more in charities than private clients. During that period I have managed various charity pension schemes. They came into the equation. That is why I have ended up with a more institutional approach than I had when I started.
But I haven't been a trustee for 30 years. Good governance means that you get a reasonable turnover, so I wouldn't serve more than 10 years (at one charity).
Do these charities have a pension scheme?
The Masonic Charitable Foundation had a pension scheme, but we have sold it. In other words, we fully funded it and passed it on. We were conscious that it is going to be increasingly difficult for charities to encourage people to give them money to simply pass it on to the pension scheme. Of course, its employees are entitled to what they are going to get, but when we give to charity we think about frontline services.
When someone says so much of a donation is actually going into our pension fund, then increasingly you may find that donors will say: "Why don't I find somebody who has not got that deficit, in which case maybe my money is being more effective than going to past employees."
It is an interesting subject for charities. Pension schemes in general don't have that dichotomy. If you are a charity you have a certain amount of money and you either spend it on your charitable aims or you put it into your pension.
We are getting to a stage where quite a lot of people don't have a defined benefit (DB) scheme. If you tell them that they are paying into a defined benefit scheme people will ask why they are giving money to pensioners. This tension that we have at the moment between the older and younger generations is probably slightly reflected in that.
What money my 27-year-old nephew gives he wants to make a difference with, but if I tell him that 5% to 10% of is going to pay someone of my age, his reaction would be less than pleased.
How has this benefited the charity?
We have to be effective stewards of our reserves. The Masonic Charitable Foundation's scheme didn't have a large deficit, but one of the decisions we had was how would we feel if we ask for money to give to charity and someone says I have seen your accounts and you're paying this much into your pension. Now, the money that we are given, after admin costs, is all spent on our charitable aims.
Is being a charity trustee rewarding?
Yes, but it is not an honorific. That is the important thing. It is hard work and it is like being a director. You have all the responsibilities of that. The focus is to make sure that you are meeting your charitable aims, that the whole thing is running effectively and that the resources are properly applied. It requires that you are up to speed with what is going on.
It is rewarding in a sense that it is a good way to help make sure that these organisations achieve their philanthropic aims.
I am usually asked to do it because of my investment expertise. Then I usually become involved more widely in what is going on because I want to know that we are making a difference, doing something worthwhile. It is something that more people should be doing. Charities need access to people who have financial skills, because they need to be effective at what they do. As charities get smaller part of the difficulty is getting access to those skills.
In terms of people doing a similar job to me, I would encourage them to add that particular element to their lives in the sense that it is about giving something back. People in financial services are not very popular. What is important is that we can give something back. We can do that by giving our time and expertise. Giving money is helpful, but that is an additional element to it.