"People like to put things in nice boxes, but sometimes things don't fit in nice boxes."
Mark Thompson, HSBC Bank Pension Trust
Liquidity is a hot topic in the pensions' investment world. Post-crisis regulation, historically low interest rates and slow global growth have constrained the ability of banks to perform their traditional market maker role, impacting boarder market liquidity.
This has caused a scramble for yield, which has seen many investors move into riskier assets. The closure of defined benefit (DB) schemes is another catalyst that has sent fund managers on a quest for regular cashflows.
Asset owners, investment managers and consultants were brought together at portfolio institutional's 2017 Liquidity Conference in March to discuss the liquidity issue in three panel sessions.
LIQUIDITY: TO BE OR NOT TO BE
The first panel discussion focused on how best to measure liquidity and illiquidity.
The audience heard that regulation has left banks with less cash to lend, creating an opportunity for institutions, thanks to their lower regulatory burden.
There is evidence that institutions are taking this opportunity to step into the domain that once belonged to banks. Since 2012, there has been £100bn committed to European direct lending loans by institutional investors, including significant allocations from the Local Government Pension Scheme (LGPS) market, claimed Chris Redmond, global head of credit research at Willis Towers Watson.
Infrastructure is another example of where institutions with long-dated liabilities have benefited from banks' aversion to lending long-term capital.
Liquidity is not a problem in this space, said Macquarie Asset Management associate director Claire Smith. "It might take two months rather than two weeks to liquidate an infrastructure debt portfolio, but there is liquidity," she added.
Mercer global director of portfolio construction research Nick White said that the move to alternative assets is unlikely to be a short-term trend. "Combined with low yields, there is a shift in mindset now so people are more open to looking at alternative sources of income," he added. "Once that shift has been made it is unlikely to be reversed any time now."
From the audience, BrightonRock head of research, Con Keating, chipped in to rubbish claims that regulation has stopped banks from lending longer-term capital. He believes that central banks are the culprits. Their bond buying has pushed the price of liquidity to an all time low.
"The private sector, therefore, should not be expected to offer much liquidity if the price is as artificially depressed as it is," he added.
The conversation soon turned to a discussion on if liquidity matters. Infrastructure assets have no market price, they do not trade on a daily basis and so have no short-term liquidity.
For Pensions Infrastructure Platform chief executive Mike Weston this is not an issue. The intention of pension schemes is to buy and hold assets. If a pension fund manager owns an asset that they are confident will generate regular liquidity to pay their pensions they do not need to find a buyer.
"As long as you are not a forced seller of these assets then arguably illiquidity does not matter," Weston said.
Liquidity would be a problem if the gilt market closed. Nationwide Pension Fund chief investment officer Mark Hedges believes that those not having enough cash to pay their members' pensions would struggle to raise the funds needed if the government debt market closed and they could not cash-out.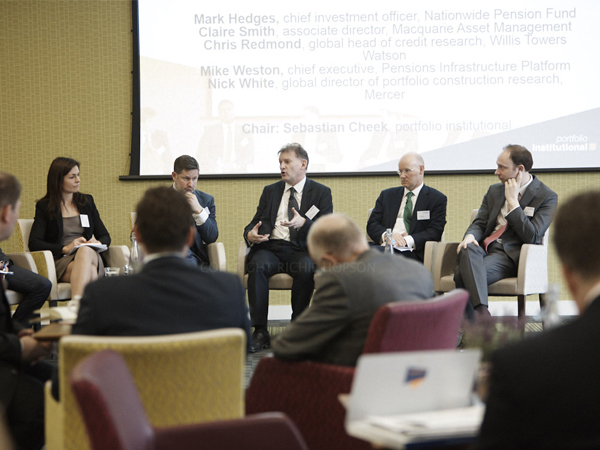 Weston believes that operational, brownfield infrastructure assets are easy to value. A discounted cashflow model and a spreadsheet are all you need. If you accept that the long-term assumptions are okay, you input a discount rate and out comes the value.
"When you can fix a value on an asset then willing buyer/willing seller rules apply," he added.
Another question raised was, is too much liquidity a good thing? Hedges said he could raise £2.2bn cash in a week through selling his bonds and equities, but would he want to? "Our objective is to pay benefits to members," he added. "That's a long-term profile, so let's make sure we generate enough cash to meet those benefits. That does not mean that I need to have 70% of my fund in highly liquid assets, such as cash."
The panel agreed that managers should not set exact liquid to illiquid asset percentage targets because each fund is different. The consensus was to look at this on a risk/return basis.
Due diligence and stress test scenarios grow in importance when assessing illiquid assets. It is all about the people running the assets so the quality of management is paramount. Look at track record and how they incentivise the team. Then assess revenue security, costs, political risk and plan for what will happen if, for example, the operator becomes insolvent.
The rush for illiquid assets has made some of these investments less attractive. Redmond pointed to the illiquidity premia disappearing in some more accessible spaces. They are being depressed to the point where they are no longer attractive.